OFFICIALSMOG CHECK
We provide the official SMOG CHECK for all vehicles including trucks, SUVs, Motorhomes/RV and Gross polluters using our cutting-edge BAR-97 Emission Inspection System (EIS) and/or BAR-OIS system required by the State of California. The inspection includes a visual, functional and tail-pipe emissions test. Certain vehicles emission testing requires the use of a dynamometer for Acceleration simulation Mode (ASM), or loaded mode test, The ASM simulates actual driving conditions and allows for more precise testing for CO, HC and NOx-the three most harmful pollutants emitted by motor vehicles. BAR-97 EIS is test for inspecting model-year 1999 and older gasoline vehicle. IOS is for inspecting model-year 2000 and newer gasoline, flex fuel, propane and natural gas and hybrids vehicles and 1998 and newer model-year diesel powered vehicles.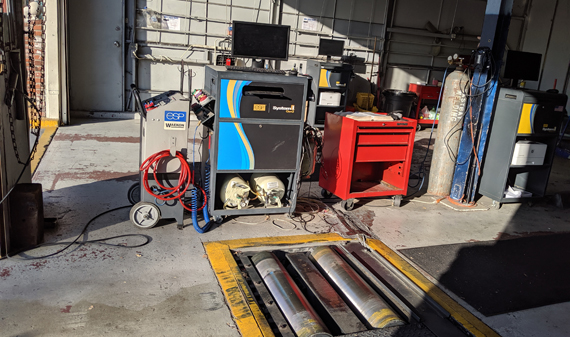 Once the SMOG CHECK is completed we will provide you a Vehicle Inspection Report (VIR) which is also transmitted to the DMV for your vehicle records. If you vehicle passes, our system will automatically transmit your Smog Certificate to the DMV electronically – which saves you time.
Experience Matters
We always make sure vehicle is in the right condition for smog inspection, catalytic converter is hot (it should be above the 600 F), if it's not many vehicles fail . Most of the German cars failing smog inspection due to improper testing (Mercedes , BMW, etc). We take the time to assure the catalytic converter proper operating temperature to prevent unnecessary and costly failures. Saving the customer time and money.
What is Star Smog Check?                                                  
What is the difference with a regular smog station and a STAR smog station?
You received your DMV renewal notice and discovered it's asking for a smog inspection at a STAR station. No Need To Panic. All this means is that the DMV has chosen your car to be inspected at a smog station which is monitored closely by the BAR and must conform to high standards established by the Bureau of Automotive Repairs.
Some STAR stations are only authorized to perform smog inspections. These stations are known as STAR Test Only stations. Other STAR certified smog centers can perform smog inspections as well as smog check repairs. These smog stations are known as STAR Test & Repair stations. Both STAR stations are allowed to perform regular and STAR smog checks.
STAR Test Only Centers are only authorized to perform smog inspections and are not allowed to perform smog check repairs.
STAR Test & Repair Stations are authorized to perform STAR smog inspections, as well as repair and certify all vehicles.
If the DMV is asking for "Smog Certificate Required at a STAR station" you can visit either of these smog test center types.
STAR certified smog station duties and responsibilities
STAR Test Only Center – Smog test only centers are authorized by the State of California to perform both Regular and Test Only smog inspections. They are not allowed to perform any smog repairs. A Test Only center's main obligation is to perform a non-bias and accurate smog inspection. They are certified to inspect all DMV required vehicles.
The State of California uses the following three strategies to determine whether a vehicle is STAR station designated or not:
Gross polluters (vehicles which have failed a previous smog inspection with very high emission readings) High Emitter Profile vehicles. These are vehicle types designated by the Bureau of Automotive Repair as having high chances of failing the smog inspection.
A random sample of all vehicles registered in California and being driven on public roadways.
If your vehicle has been selected to undergo a STAR smog check don't be alarmed. Know that we can help you with any service you may need. We here at Pacheco Smog strive to serve our customers through Integrity and Customer Care. Call or Drop in anytime.
Don't Need Repairs? Just need a Smog Certificate? Then Test Only Smog is Just What You Need!
Directed Test Only
Regular
Out of State
Gross polluter
Change of Ownership
Any type of smog inspection
Test Only Center Versus Test And Repair Station
Get your smog check at a Test Only Center whether you are told to or not by the State of California, is because there is no incentive for your vehicle to fail since no repairs can be sold. A Test and Repair Center can sell you repairs if your vehicle fails the smog test. Test Only Center can smog check just about any vehicle. Since Test and Repair Centers profit by selling diagnostics and repairs, usually the charge for the smog check is less to attract more business. There are several reasons the State created Test Only Centers and one is to try and eliminate Fraud in the smog check industry. It is also illegal for an owner of a Test Only Center to have ownership of a Test and Repair Center within 50 miles of any Test Only Center it may own.